Our Campus facility
Enquiry Form
Background
Khalsa Academy, Sri Ganganagar was founded by eminent citizens of the area on 17th february 2002. An English medium, co-educational school from nursery to XIIth all streams impart education, to make a child good citizen of India and develop an all round presonality, to face the competitive world.
Green Earth Eco-Club
Khalsa Academy, Sri Ganganagar have one earth and we must save it. There is much talk about the need to conserve the environment and the club encourage students to care for love echo-friendly activities. Each Student Must Plantation On His/Her Birthday and take care of it to save the Environment.
From The Academic Director's Desk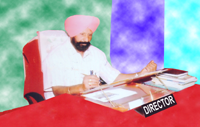 Keeping in mind the need of people of this area Khalsa Academy was established in 2002. It is a matter of great satisfaction that with in a short span of time, the academy has eamed a name.
Education is the key to create a society, all of us want children to succeed in all their activities. Our role as a teacher should be to develop the harmonious personality of the child. parents are like the bow and children are like the arrow, untill the bow sets the arrow free, It will not reach its target.
"Action Speak Louder Than Words"
Er. N. S. Gill
Director