Our Campus facility
Enquiry Form
Background
Khalsa Academy, Sri Ganganagar was founded by eminent citizens of the area on 17th february 2002. An English medium, co-educational school from nursery to XIIth all streams impart education, to make a child good citizen of India and develop an all round presonality, to face the competitive world.
Green Earth Eco-Club
Khalsa Academy, Sri Ganganagar have one earth and we must save it. There is much talk about the need to conserve the environment and the club encourage students to care for love echo-friendly activities. Each Student Must Plantation On His/Her Birthday and take care of it to save the Environment.
Principal Message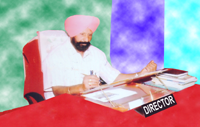 Successful institutions do not just happen. They are effective because all those who work in them have a commitment to make them succeed, Leadership, teamwork and sound management structures all go together to make such institution forward at a time of rapid. The Expectations of the parents may be high, but the school authorities and the staff members, constantly strive to bring their dreams into the light of reality. With the same encouragement and support of the parents and authorities, the committed efforts of staff and above all be the grace of god, our school shall achieve much greater heights in the coming years our dreams is to make this school one of the best school in India.
"The Goal of mankind is knowledge."
Mrs. Sarika Kochar
M.Sc.(Chemistry, Botany)B.Ed.